Hosted Outlook Exchange Email

Email is no doubt one of your most vital business services. We know that any minute of downtime means lost productivity. This is why we offer a highly reliable infrastructure in which all components are redundant to ensure maximum availability of service. Also, you can rely on a 99.999% uptime service for even more peace of mind.
Hosted Outlook Exchange
---
Secure Encrypted Email Message Center

Security in your business communications regarding sensitive information is no joke. The law and ethics demand it. Yet for most, their concerns remain concerns year after year as they hope for the best when it comes to data security because systems just haven't come along that are both affordable, and easy to use, which really address the problem. "How do my business operations get the highly sensitive and personal information we must have to accurately do business without having to chase people down over the phone to get that information". There is finally a simple email based solution.
Secure Encrypted Messaging
---
Email Anti-Spam & Anti-Virus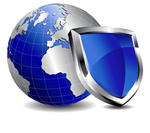 Fast, efficient communication is one of the most important tools for running a successful business. While the benefits of email are undeniable, if you're not adequately protected, you are leaving your entire business vulnerable to online attacks including spam, phishing, viruses and malware. With Email & Spam Protection from InsuredCo, your business can enjoy a reliable email system without being exposed to the safety threats associated with email.
Anti-Spam/Virus Firewall Protection
---