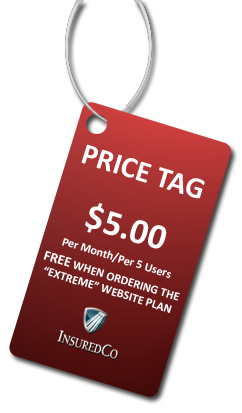 Greatly Increase Client Confidence & Get The Information You Need to Do Business Faster
Security in your business communications is no joke. The law and ethics demand it. Yet for most, their concerns remain concerns year after year as they hope for the best when it comes to data security because systems just haven't come along that are affordable which really address the problem. "How do my business operations get the highly sensitive and personal information we must have to accurately do business without having to chase people down the old fashioned way to get that information".
There is finally a simple email based solution.
An intuitively simple, yet secure email message encryption service. 100% encryption. 100% secure. 100% of the time. This level of email security is available as an add-on product offer and works not only on your workstation computer, but from your phone or tablet as well. A cloud-based approach to private message encryption ensures that encryption-keys are automatically generated and stored centrally in the cloud. Key management happens automatically, without any added overhead for either the users, recipients or office administrators. It's so easy to use and so powerful, that from the very first moment you will wonder how you ever got along without it and your customers & associates will appreciate and depend on the service just as much as you will.
---
Achieve Message Encryption and Security that's Easy To Use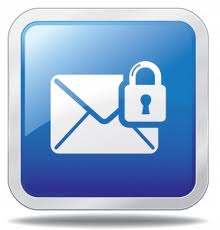 True email encryption and security is used to ensure that only the intended recipient is able to access the message and any attachments in a fully encrypted and secure password protected environment. Are your sensitive email communications that secure?
To be a vital part of your day to day operations, such a system has to be extremely easy to use and void of any special system management or maintenance requirements that would do nothing more than consume your time and resources. Traditionally, deployment of even basic email encryption services have been so complex and cumbersome that practically nobody does it.  In addition, the use of email encryption has historically required the sender and the recipient to exchange their encryption keys prior to sending and receiving emails and to place those keys into their email programs. Yet when encryption of "data at rest" is accomplished, is the message really secure? The answer is simple. No it's not.
These and other factors have severely limited the usefulness and adoption of secure practices for exchanging email. In the face of such challenges, most email users decide to bypass organizations policies, exposing sensitive and confidential data or having to obtain that data verbally because their systems don't support the high standards in any electronic format. Even faxes are no longer considered as a relatively secure method of exchanging information since so many people use online fax services which send or receive their faxes automatically via email. So although you may still use a fax machine and a dedicated phone line, do all recipients of your faxes do the same? How can you be sure?
Those days are now over.

---
Exposing the Myth of Commonly Used TLS Email Security
Distinguishing between Data-at-Rest and Data-in-Motion Security & Why Transport Layer Security (TLS) Is In No Way A Trustworthy or Sufficient Solution for Real World Email Communications Between People. Truth be told, TLS is merely one small part of a truly secure email communications system that in today's world is required for sensitive information.
Transport Layer Security (TLS) has been all the rage with others trying to sell or provide a secure channel for transmitting data. Thus all content, emails and attachments are encrypted while they are transmitted. This is known as Data in Motion security, as the data is secure when moving from the origination server to 1 other server. However, TLS does not provide security of the "data at rest". Thus, data (emails and attachments) are stored without any encryption at all on the sending and receiving server leaving everything exposed and vulnerable, as well as any other servers and gateways involved in filtering and delivering email and such multiplicity is usually involved in email delivery.
In addition, any server that terminates the TLS connection can act as an email proxy, or forward the received email to another server. Any of these servers might not adhere to the same security requirements as the sending server.  For instance, a data sensitive TLS secured email could be sent to a recipients work email address, it's bad enough that once the intended recipient gets the message that it's no longer encrypted, but what if their office email sends a copy of all messages to their free Gmail, Hotmail or Yahoo account?  Not only was the message transmitted without security while in transit to this "other" account, but it now resides on some third-party public system full exposed to any would-be intruder or system technician.  Terminating TLS connections before the final destination email server is often done for filtering email, enforcing policies and archiving or simply for conveiniance. Thus with TLS, the sender has no way of guaranteeing security of email and the sensitive information it may contain.
---
Encrypted Key Management
The Secure Message Center utilizes Advanced Encryption Service with a 256-bit cipher, commonly known as AES 256. The first time an email is received for a recipient, a unique key is automatically generated. Emails (including all attachments) are encrypted using the recipient's key.
The problem was simple, and of great concern. With email as our primary method of communication, we knew we could not allow messages containing any personally sensitive information to be floating around, viewable by anyone in email programs completely unencrypted and sitting there for years, or worse… on a cell phone or other mobile device available with just the press of a finger. Even with our concerns so daunting, InsuredCo has conquered the problem and provided us with a solid solution incorporating an end-to-end secure message service that's so easy to use by us and our customers that it's simply a no-brainer. So affordable that we don't even notice the charge on our bill.

Additionally, this valuable service promotes our dedication to protecting personal information to everyone we choose to communicate with in this manner and protecting ourselves from data breach liability concerns surrounding and growing regulatory standards. So whether it's a policy update or a quote for a new piece of business, or a claim, when we send the email we are doing it in a way the recipient easily sees and experiences the difference of what total security is all about. This places us high above the way others perform electronic business communications and makes it easy to obtain and provide sensitive information via email.

In a nutshell, we needed an easy to use encrypted email system. Not for every email because not every email requires it, but for personally sensitive emails containing information which demands encryption. InsuredCo provided us with the perfect solution, and it works with everything including mobile devices.

[Customer Testimonial]
---
---